General Information
The Eselsbergsteige dormitory, or short "EBS", is located on the Eselsberg in the decentral north west of Ulm.
During the semester over 500 students live here. Many spend their first academic years here and then take a step towards an own apartment. The supervised complex consists of 7 multi-story buildings. Internally often called block A to G. The blocks E, F and G offer fully furnished shared apartments for 2 residents, while 3 to 5 people share their apartments in block A to D.
Many residents are international students. While students from distant countries, like India or China, finish their whole degree here, Europeans often just spend one semester abroad in the course of the Erasmus program. You will have many chances to get to know new cultures and interesting people, just be open minded and use your opportunities.
A big advantage about life in a dormitory is moreover the exceptional service. The helpful caretakers, flat-rate operational costs with included gigabit internet access and the many common rooms and social activities turn your studies into the most exciting years of your life.
The carrier of the dormitory is the Studierendenwerk Ulm. All questions concerning dormitories in Ulm should be addressed to the friendly employees. The Studierendenwerk rents the apartments, likes to inform you and is very flexible, even about short term contracts.
Neighborhood
The dormitory is located on the upper Eselsberg, surrounded by the streets Eselsbergsteige, Ferdinand-Sauerbruch-Weg and Sebastian-Kneipp-Weg. The neighborhood is rather calm and consists mainly of terraced houses and one-family houses.
If you follow the Eselsbergsteige uphill for about 3 minutes to the bus stop "Virchowstraße", you can find a small business center with a supermarket, ATM, bakery, pharmacy and some doctors. Another point of interest is located about 15 minutes by foot towards the city center. There you can find the business center "Stifterweg" (bus stop "Burgunderweg") with even more shops, banks, police office, DHL packing station and a city administration service center. This one will be especially important for all your legal matters (e.g. address change, ID).
From the dormitory to university by foot it's about 20 minutes, by bus (route 5 to "Wissenschaftsstadt") about 10 minutes. You can reach the city (main station) by foot in about 45 minutes, by bus (route 5 to "Ludwigsfeld" or "Wiley") in 15 minutes.
---
Description of Apartments
3, 4 or 5 People Shared Apartments
In the blocks A to D there are in most cases 4 people shared apartments ("WG" in German), but there are also 3 and 5 people shared apartments. They are equipped with a big kitchen with electric stove, oven and many cupboards. The fridge is stuffed most of the time. Toilet and bathroom (sink and shower) are partially separated, partially combined.
The rooms are furnished reasonably: bed, cabinet, shelf, container, bed box, desk, chair. All furniture can be moved with a little effort and arranged to your comfort.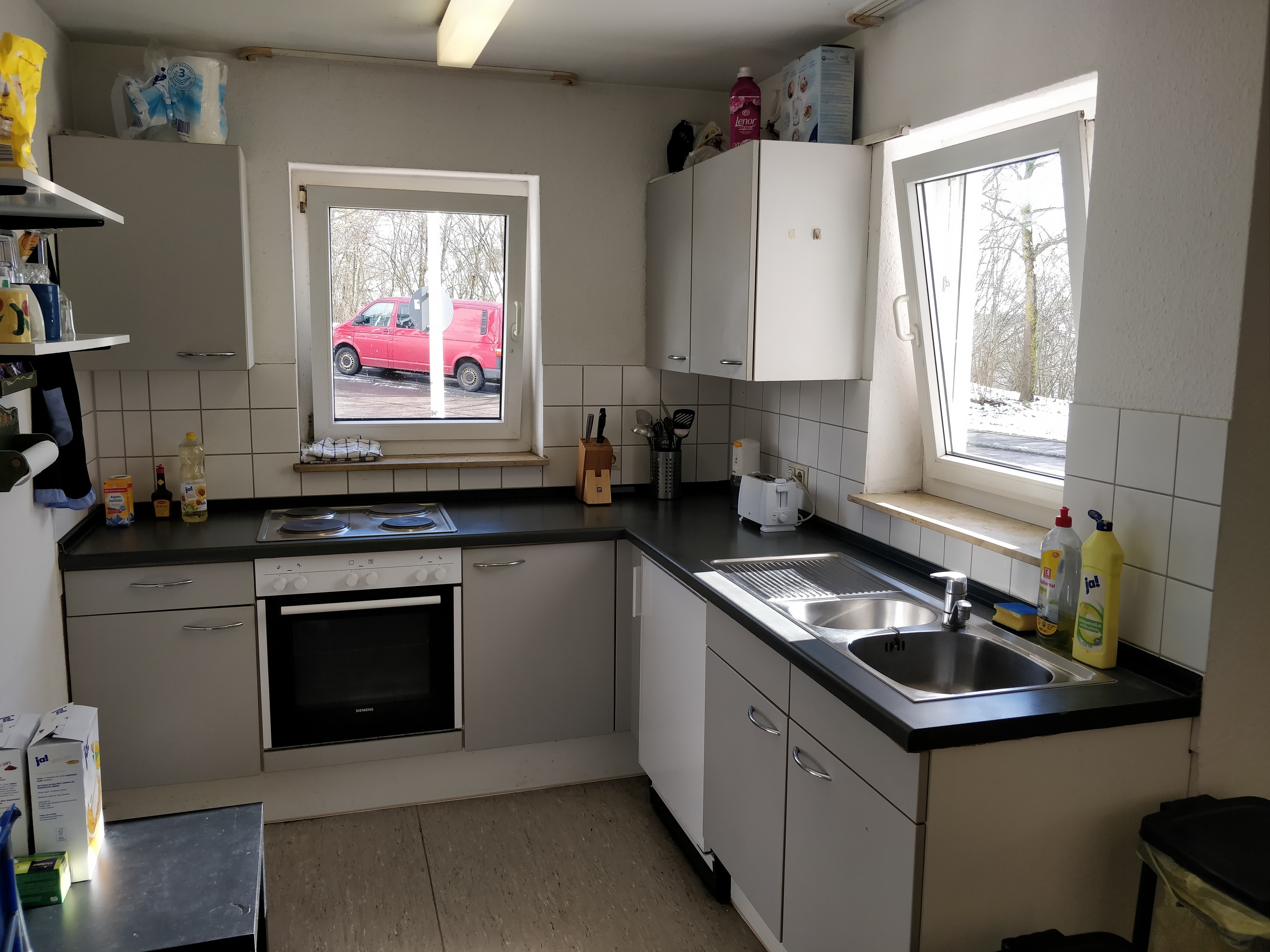 2 People Shared Apartments
Within block E to G you exclusively find shared apartments for 2 residents. The rooms are furnished equally. The atmosphere is a bit calmer, but there is much less common space than in the big apartments. Disadvantageous are especially the small kitchen and the missing space for a common table and chairs. The stove consists of just 2 plates – an oven is only available in the oven rooms. In the 2 people shared apartments the fridge is reasonably sized. Toilet and bathroom are separated. A small advantage is, that the rooms are about 1,5 m² bigger in these apartments.
Waste Separation and Disposal
Like everywhere in Germany, waste separation is an important rule in the dormitory. Waste glass has to be thrown into the containers south of the B block. Plastic, aluminum and packaging belong into yellow bags. If you haven't got any left, you can get some at the city administration service center. For those bags there is a special disposal area next to the C block (throw-in from above). Biological waste, paper and residual waste can be disposed at any disposal area around the dormitory. Look at the map to find the closest spot to your apartment.
If one garbage bin is full, please throw your waste into another one and don't put it besides the full bin.
Plastic bags don't belong into the biological waste!
Noise
Welcome to a dormitory! People living here like to celebrate major events like birthdays, passing exams, meeting with friends, good weather... and of course any reason is a good reason to BBQ - at the same time there are of course always some of you learning or sleeping.
Please communicate before you get stressed out by those celebrating or BBQ-ing. Get up and tell them to keep it down. Communication is the key to a successful and reasonable life with one another and also an important softskill for your life, so use your inevitable opportunities.
To generally avoid such situations, please obey the standard night rest times after 10 p.m. and stay preferably indoors with closed windows. This especially benefits our neighbors, which are regularly disturbed by us.
---
Semester Ticket and Bus Schedule
The bus (route 5) stops directly in front of the dormitory and departs every 10 minutes on working days. A ticket (one way) is 2,40 €, so it's beneficial to buy a semester ticket. The ticket costs 129,00 € and is valid from begin to end of the official semester times. Students of Ulm are moreover allowed to take the bus for free on working days after 6 p.m., on weekends and holidays after showing their student ID. The last bus from main station to Eselsbergsteige departs shortly after midnight. Fridays and Saturdays there are night busses.
Here you can find the bus schedule, prices and additional information about night busses.
Last update of prices: 13.06.2020
Broadcasting Fee
Like in every household, the broadcasting fee for ARD and ZDF has to be payed in a dormitory too. After you reported your address change to the city administration service center, you probably get a letter from the "Beitragsservice" very soon. As this fee has to be payed only once per household (shared apartment), you can split it up with your roommates. Just ask them, if somebody of them has payed the fee up to now then you can join their account. If you need help understanding the letter, just ask a German speaking roommate. If you want to answer the letter directly through an online form, you can do this here. If you need additional English information, you can find it here.
---
Facilities
Within the dormitory, there are a multitude of common rooms available for social activities, for instance fitness rooms, rooms with table tennis, table football or pool, a music room and a party room. There are moreover rooms for personal necessities like a learning room, oven rooms, a tools room and of course the many washing rooms.
While washing rooms and the learning room are accessible with your own key, there are tutors for all other rooms. They are responsible for the keys, will hand them out to you on demand and provide additional instruction if necessary. For every common room this generally holds true: treat the rooms careful, leave the rooms cleaner than you found it and take with you, what is yours.
For some special rooms there are some additional details underneath this paragraph. Where to find which room, can be extracted from the table and map.
block
A
B
C
D
E
F
G
entrance
109
111
113
115
105
107
4
6
8
7
3
1
caretaker
✓
oven room
✓
✓
✓
pool room
✓
fitness room
✓
✓
music room
✓
learning room
✓
party room
✓
table football
✓
table tennis
✓
washing room
✓
✓
✓
✓
✓
✓
✓
✓
tools room
✓
The Esels-Bar
Opening Hours: Wednesdays and Sundays from 9 p.m. to 12 p.m.
The spot for getting to know each other and enjoying! Here you can experience sociable evenings and savor through an exciting drinks menu for inexpensive prices. The bar tutors will take care of your needs very well. There are specials with new drinks or discounts regularly. You can get informed about the dates through this website or through the "Info EBS"-WhatsApp Group. The invitation link is available at the notice boards.
The rooms of the bar are also used for boardgame and movie evenings ("CineEBS"). Boardgame evenings take place on the first and third Monday, movie evenings on the second and fourth Monday of every month starting at 8 p.m.
Party Room
The party room is in the E block. It has all you need to party: stove, oven, sink and a fridge. Of course there is a toilet too. The standard equipment of the party room are some tables and a few chairs. Before you get the key, you have to pay a deposit (50 €) to the party room tutor. This room can only be booked on Friday, Saturday and before holidays. Usually you have to reserve the room some weeks in advance, otherwise it'll be already taken when you need it.

Washing Rooms
The washing machine is 1,30 € per cycle. The dryers are 1,60 €. Both can only be payed with the student ID. To load money onto your ID card with your bank card, there is a terminal in the E block entrance. Please don't let your laundry hang on the lines longer than absolutely necessary, as there is only limited place available.
Tools Room
Here you find a basical equipment of tools, like a drilling machine, a jigsaw, a cordless screwdriver and of course a work bench. For car drivers there is a battery charger, a jumper cable and a sparkplug driver. Cyclists find some cycle tools. There is also a soldering gun, a device to find conductors and one that makes it easier to get wires through walls. You have to bring along expendable items (like screws, nails or glue).
Underground Garage and Bicycle Parking
If you bring a car with you to the dormitory, you have to rent an underground parking lot from the Studierendenwerk. But those are fortunately not very expensive. You can also find multiple places for bicycle parking in the underground garages and around the dormitory, which are marked in the map.